Pricing
Black Friday special
One year Premium Subscription is half price for this weekend only! Download the app, tap "Upgrade", then tap "1 year".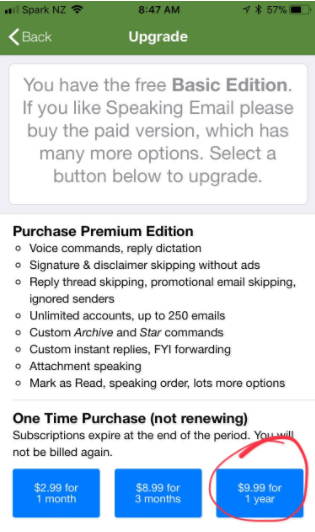 Basic Edition - FREE
Premium Edition Pricing
One month: US$1.99 approx
Three months: US$4.99 approx
One year: US$19.99 approx (20% off monthly)
Prices are approximate due to currency and App Store / Google Play price tiers.
Enterprise Solutions
For enterprise customers, we can provide direct invoicing, support SLAs and sign supplier agreements as required by your IT security and procurement policies. Tell us your requirements, including number of users, and we will get back to you with pricing. Please email us on feedback@speaking.email for a quote.
Comparison Chart
| | | | |
| --- | --- | --- | --- |
| | Basic (Free) | Premium Edition | Enterprise (Invoiced) |
| Number of users | 1 | 1 | 50+ |
| - Demo account | | | |
| - Multiple Email accounts | - | | |
| - Change speaking speed | | | |
| - Control whether to read out senders, recipients, CCs, dates, use sound effects | | | |
| - Auto play on launch | | | |
| - Auto next | | | |
| - Change voice | - | | |
| - Multilingual | - | | |
| - Read out attachments | - | | |
| - Voice commands (listen on tap) | - | | |
| - Voice commands (listen at end) | - | | |
| - Dictate replies | - | | |
| - Dictate with 'Reply All' | - | | |
| - Archive after sending | - | | |
| - Enable links | - | | |
| - Turn off Speaking Email tagline | - | | |
| - Email signature | - | | |
| - Skip disclaimers, signatures | nags | | |
| - Cut off long emails | - | | |
| - Skip promotional emails | - | | |
| - Cut off when reply detected | - | | |
| - Instant reply | - | | |
| - Instant FYI forward | - | | |
| - Play only unread emails | | | |
| - Play only unplayed emails | | | |
| - Play only arriving emails | | | |
| - Play unread first | | | |
| - Play unread oldest first | | | |
| - Play unplayed first | | | |
| - Include all folders (Gmail only) | - | | |
| - Gmail category filter (Gmail only) | - | | |
| - Mark as 'Read' when speaking | - | | |
| - Customise 'archive' command (mark as read, custom folder) | - | | |
| - Customise 'flag' command (mark as read, custom folder) | - | | |
| - Play unread first | - | | |
| - Play unread oldest first | - | | |
| - Play unplayed first | - | | |
| - Play only unread | - | | |
| - Play only unread | - | | |
| - Play only unread | - | | |
| Service Level Agreement (SLA) | - | - | |
| Pay by invoice | - | - | |
| Pricing - monthly | $0 | US$1.99 | $POA |
| Pricing - annual | $0 | US$19.99 | $POA |